Riding Know-How
Planning Your Trip
Bus schedules are a handy tool to help you plan your trip. Schedules will tell you where you can board the bus, where you can get off the bus and the times that you can travel. If you need assistance planning your trip, please call a Customer Service Representative at 203-333-3031, as follows:
Monday – Friday
6:00 – 18:00
Weekends and Holidays
8:30 – 16:30
Or, you can visit our trip planner by clicking here.
Boarding the Bus
Be sure to be at the bus stop a few minutes ahead of the scheduled arrival time. Bus stop signs are located every few blocks throughout the service area. When the bus approaches, please wave it down to signal that you want it to stop for you. After the bus has come to a complete stop, it is safe to board. Board the bus using the front door and pay the proper fare. Take a seat as quickly as possible.
Getting off the Bus
About one block from your bus stop, signal the drivers to stop and let you off by pressing the rubber strip next to the window or pulling down on the yellow cord above the window. A chime will sound to alert the driver. The driver will pull over at the next available bus stop to let you off. Please do not stand up until the bus has come to a complete stop. Please exit the bus through the rear door. For your safety, please do not cross the street until after the bus has driven away and watch out for local traffic!
Your Driver Can Help
If you're not exactly sure where you need to get off, feel free to let your driver know your destination at the time you board. The driver will alert you when the bus is approaching your stop.
During Severe Winter Weather
Snow and ice are a fact of life in New England. The times listed on the schedules are approximate and are subject to delays from weather or other conditions. Please keep this in mind when planning your trip. In the event of a weather emergency, service updates will be posted to:
Holiday Service Schedules
GBT bus service operates 365 days/year. However, there are different levels of service on Weekdays, Saturdays and Sundays. When there are certain holidays, GBT operates its service according to Saturday or Sunday service levels, depending on the holiday. Below is a list of holidays and the type of service we operate on them:
New Year's Day — Sunday Service
Martin Luther King Jr. Day — Saturday Service
Presidents Day — Saturday Service
Good Friday — Saturday Service
Memorial Day — Sunday Service
Independence Day — Sunday Service
Labor Day — Sunday Service
Thanksgiving Day — Sunday Service
Christmas Eve — Regular Service
Christmas Day — Sunday Service
New Year's Eve — Regular Service
Lost & Found
If you think you left something on the bus, please call our customer service call center, at 203-333-3031 Monday – Friday between 6:00 am to 6:00 pm. Weekends and holidays between 8:30 am and 4:30 pm. If your item has been turned in, we'll hold it for you so you can retrieve it, at the information window, at the Water street Station. If you find something someone left behind, please report it to your driver or turn it in at the information window at the Water Street Station.
Connecting Information
Use the links below to help you plan your trip outside of the GBT service area.
Safety & Security
Traveling to a Bus Stop
Please use caution traveling to or from any bus stop.
Always use crosswalks and watch for traffic.
Jay walking is illegal and can be especially dangerous to do in front of a bus.
Always stand back as the bus approaches and never run after a bus.
When getting off a bus, please wait for it to pull away before crossing the street – never cross the street in front of the bus, as oncoming traffic can't see you and may not stop.
If you are traveling with a baby in a stroller, please remove the child and fold the stroller before boarding.
Smile! - Video and Audio Surveillance on the Bus
For your safety and security buses may be under audio and video surveillance. Any recordings made by GBT may be turned over to the appropriate authorities.
See Something? Say Something!
In case of an emergency always call 9-1-1.
It can be difficult to know what "something suspicious" looks like… but trust your instincts. Alert a police officer, a bus operator, bus station personnel or security guard.
Please Report:
Unattended bags or packages
Suspicious behavior
Exposed wires or other equipment or building irregularities
Anyone tampering with surveillance or cameras
Strange vehicles left unattended
People videotaping, sketching or taking notes on transit equipment or facilities
People entering unauthorized areas
Also, remember to take all your belongings when you leave the bus.
Take notice of, and in an emergency use, emergency exit procedures listed next to the bus windows and doors and on the ceiling escape hatches.
Please report anyone tampering with the surveillance cameras to the driver.
Project Safe Place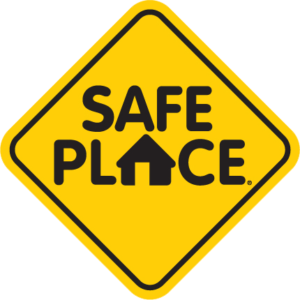 Project Safe Place is a program to assist young people in crisis situations. The program works by creating a network of "safe places" — business and public locations that display the safe place sign on their property. GBT buses are designated safe places. When a youth in a crisis situation enters a bus and requests help through the safe place program, a process is set in motion to provide assistance. For more information about Project Safe Place, please call 203-366-7070 Extension 100 or visit: https://www.nationalsafeplace.org/
Don't do it - Violence on Transit Systems is Illegal
It is a federal crime to commit acts of terrorism or violence — or to threaten such acts — against transit systems and transit system employees. This includes acts intended to cause death or injury to transit system employees and/or passengers. Anyone who assaults a bus driver will be prosecuted to the fullest extent of the law – up to 10 years in jail and a $10,000 fine.
Cyclists Welcome!
All GBT buses are equipped to carry your bicycle. Our bike racks can accommodate a wide variety of bicycles and the loading time is minimal. Bike racks are "first come, first serve" with a two-bike maximum per bus.
Loading a Bike
Be off your bike and waiting at the bus stop so the driver will recognize you as a passenger. Remove all loose items, water bottles, pumps, etc. before loading your bike on the rack.
After the bus has come to a complete stop, and you are sure that the driver sees you, move to the bike rack at the front of the bus.
Load the bike from the curb side ONLY and never the traffic side of the bus. Remember to make eye contact with the driver!
Squeeze up on the chrome release that is located in the middle of the handle and lower the rack from its upright position,
Unloading a Bike
Don't forget your bike!
Inform the bus driver that you will be unloading your bike as the bus approaches your stop.
Use the front door to exit the bus.
Unload your bike from the curb side, never the traffic side. Remember to make eye contact with the driver!
Raise the support arm off the front tire and fold it down to its original position.
Lift your bike off the rack.
Squeeze up on the chrome release that is located in the middle of the handle and raise the rack to its upright position.
Step away from the bus to the curb with your bike, wait until the bus leaves.
Never proceed directly in front of the bus into traffic.
Reasonable Modifications
Special Requests
GBT considers reasonable modifications to its services to assist riders with disabilities and to ensure that any individual's disability does not preclude her/him from having full access to any GBT service. If you have a special request, you can find out more about reasonable modifications by calling 203-366-7070, Ext. 131.