Coronavirus News #6 ● for GBT Riders & the Public ● April 14, 2020

Service Changes in Effect
As a result of the coronavirus, GBT announced last week that there would be service modifications beginning on Monday, April 13. These are now in effect:
Routes 1, 3, 4, 5, 6, 9, 10, 13, 15 will be running a Sunday schedule seven days a week
Routes 8 and Coastal Link (CL) will be running a modified schedule Monday through Saturday, and a Sunday schedule on Sundays
Route 19x will be running a modified schedule with one morning and one afternoon trip Monday through Friday
Route 7 will be temporarily suspended – Riders should use the Coastal Link (CL)
Routes 17, 22x, and 23 will be temporarily suspended
We have made several additional changes, effective Tuesday April 14, 2020, which restore some of the service originally suspended:
Route 22X
This route, providing service between Downtown Bridgeport and Trumbull/Monroe, will be restored to provide one morning and one evening trip to essential businesses in these areas.
Route 23
This route, which serves Bridgeport's East End, Stratford, Shelton and Derby has been restored by providing one morning and one evening trip to essential businesses in these areas
These changes will be in effect until further notice as GBT is continuing to monitor developments regarding the spread of COVID-19 in our community.
Riders should note that the Bus Tracker and other electronic signage will be limited or unavailable during this time as it will be inaccurate and not reflect these changes.
---
Watch for More Details
Listen in to Doug Holcomb, GBT CEO, as he discusses bus service during the coronavirus pandemic with Bridgeport's Mayor Ganim by calling in to the Mayor's daily live press conference.
---

---
Wear a Mask if You Have One
If you have a mask, please keep it on while using the bus. Keep it on while waiting at the bus stop, while entering and exiting the bus, and while traveling on the bus.
---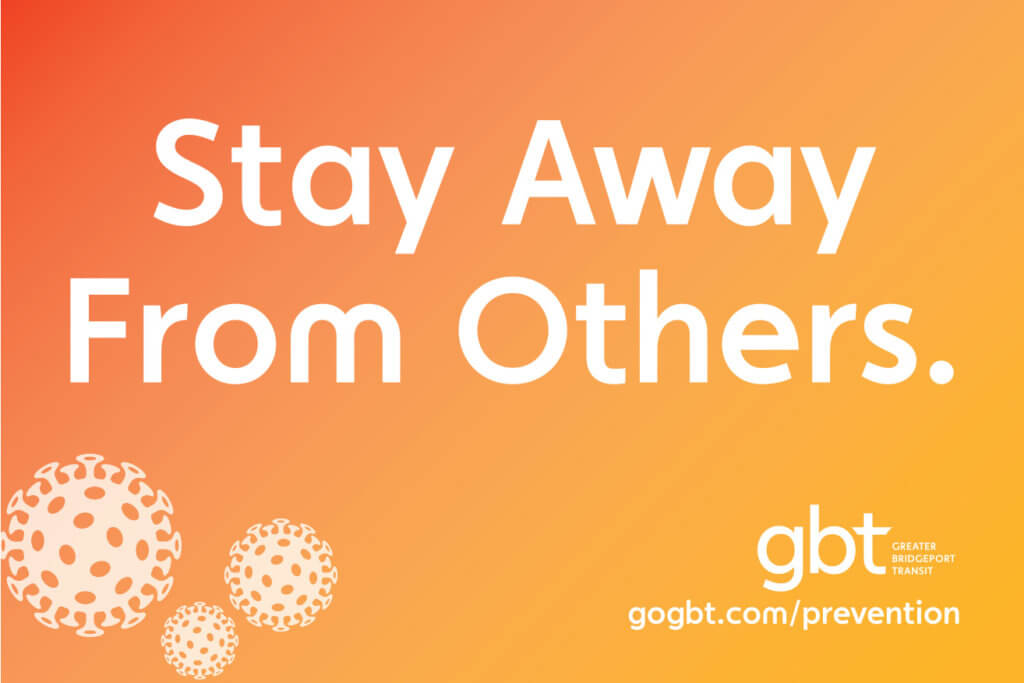 ---
For Essential Employers
We are working with area leaders  and businesses to ensure that essential workers can still get to jobs. If you are an Essential Employer that has workers impacted by these changes, please contact us here.
---
When Will Full Service be Restored?
Some riders are asking when the service will return to normal levels. The answer is we do not know. Much will depend on the advice of government officials and public health professionals. What we can tell you is, we recognize the importance of bus service to the many people living and working in our region and we will begin restoring service as soon as it is safe to do so.
---
Stay Connected
Please check in regularly. You can always get the latest information in these places:
gbt-staging.b97xcqx6-liquidwebsites.com/prevention