Coronavirus News #8 ● for GBT Riders & the Public ● April 20, 2020

Face Coverings Now Required on Buses
For several weeks we have been asking riders to practice social distancing and to wear masks to prevent the spread of the virus. Most are cooperating and we thank you for that.
Some riders are still traveling without masks or face coverings of any kind. This is a danger to themselves and other riders.
On Saturday, April 18, 2020, Connecticut Governor Lamont issues an Executive Order requiring the use of masks in public spaces ─ including riding the bus ─ where social distancing is difficult.
Here are the new rules:
Any person in a public space who is unable to or does not maintain a safe social distance of at least six feet must wear a face covering over their mouth and nose;
In addition, individuals shall use a mask or cloth face covering when using public bus transit, within a bus shelter or any transit waiting area.
For your safety and the safety of others, the use of a mask is now required by Executive Order of the Governor of the State of Connecticut.
---
Service Change Revisions
There have been several slight modifications to the bus schedules since Monday, 4/13/2020, due to the needs of essential employers in our region.
Here's an overview of all services, effective 4/17/2020:
Routes 1, 3, 4, 5, 6, 9, 10, and 13 are running a Sunday schedule seven days a week
Coastal Link (CL) is running a modified schedule Monday through Friday, and a modified Saturday schedule on Saturdays. CL is running a regular Sunday schedule on Sundays
Routes 8 and 15 are running a modified schedule Monday through Saturday. Both routes are running a regular Sunday schedule on Sundays
Route 19x, 22x, and 23 are running a modified schedule with each running one morning and one afternoon trip Monday through Friday
Route 7 is temporarily suspended – Riders should use the Coastal Link (CL)
Route 17 is temporarily suspended
These changes will be in effect until further notice as GBT is continuing to monitor developments regarding the spread of COVID-19 in our community.
Riders should note that the Bus Tracker and other electronic signage will be limited or unavailable during this time as it will be inaccurate and not reflect these changes.
---

---
We All Need Bus Drivers
Our ability to provide continued service depends on the health and availability of our drivers and other employees. It is critical that we all work together to follow these rules so that our community is strong and resilient.
Our bus drivers are counting on you to do the right thing.
Help us let bus drivers know how much we value the work they are doing ─ send a Thank You to our bus drivers online. We will make sure that our bus drivers get the messages that you send in.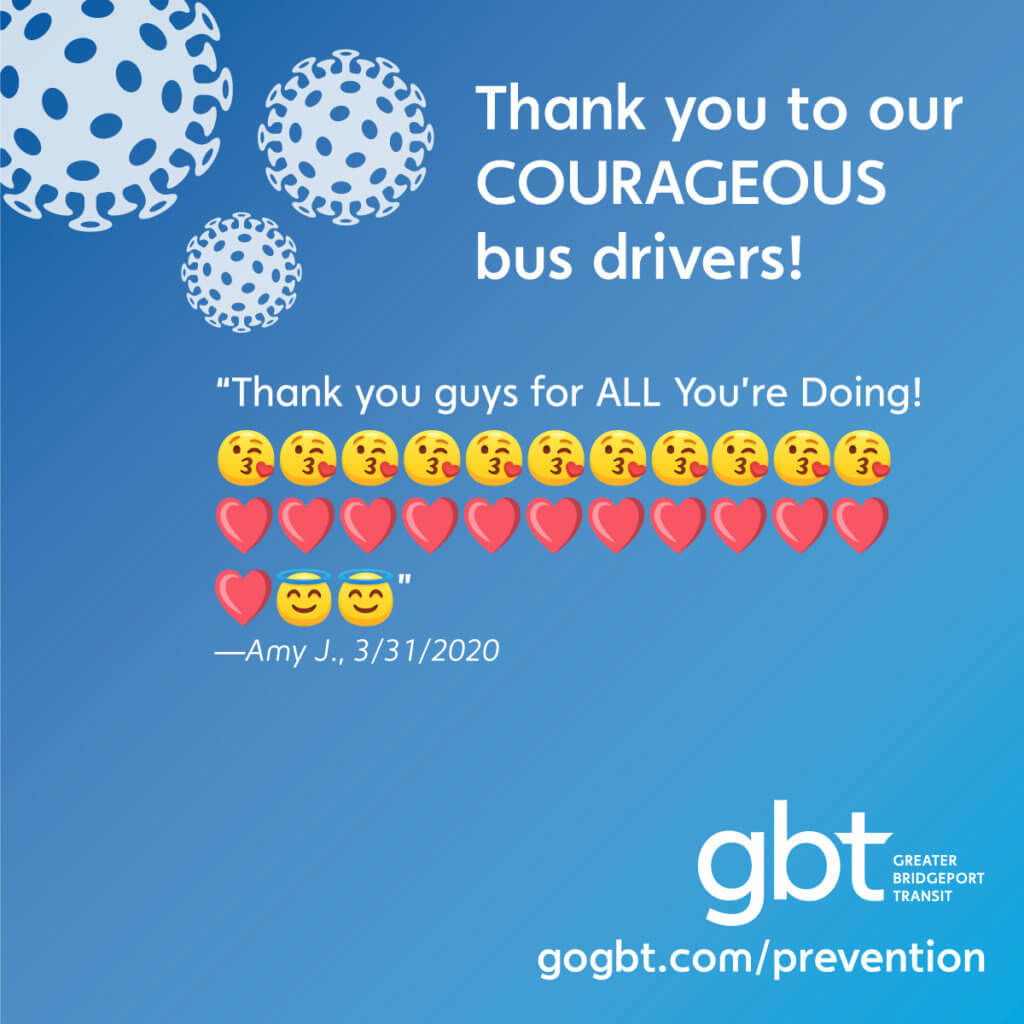 ---
Remember These Simple Guidelines
Do not travel if you are sick or suspect you may be sick.
Do not travel if you do not have to
Cover your cough or sneeze.
Wash your hands with soap and water often.
Use hand sanitizer frequently.
Find out more at the Centers for Disease Control>>
---
Stay Connected
Please check in regularly. You can always get the latest information in these places:
gbt-staging.b97xcqx6-liquidwebsites.com/prevention