Driving a Cleaner, Greener Future
Zero-emission electric buses are on the road now in GBTs service area.
Last year, GBT began the conversion of its fleet to cleaner, quieter, battery electric buses. By moving away from fossil fuels, non-renewable resources, and harmful emissions, we are helping make the air cleaner and our community greener.
We partnered with American bus manufacturer Proterra for the purchase of two battery electric buses which arrived in 2020. After several months of testing and training our staff ― bus drivers, and maintenance and operations people ― the buses began operating in regular bus service in early 2021.
GBTs two buses ― the Proterra Catalyst model ― use 440 kWh battery packs which charge in the bus garage in less than three hours overnight. While in-service, they are now traveling more than 150 miles a day on a single charge. Today, these buses are used on nearly all GBT routes and in neighborhoods throughout the service area.
During the time that these buses have been operating in regular service, they have been reliable and are having the positive environmental impact we were hoping for.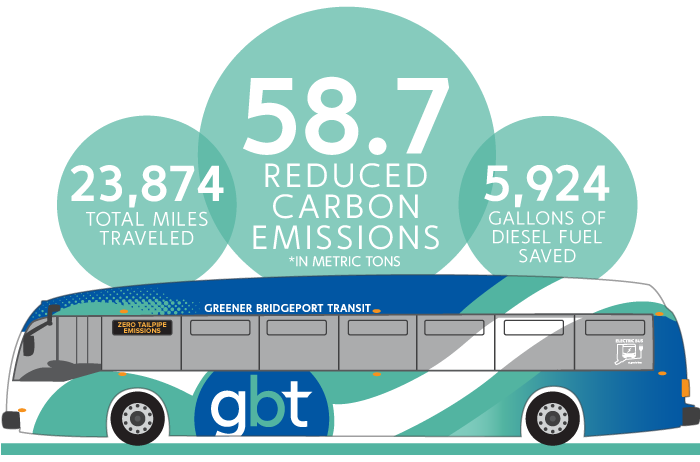 Calculations for savings and carbon emission reductions associated with GBT electric buses take into account powerplant and refinery emissions.
The Future of Zero Emission Buses in Our Region
This month, GBT will place an order for the next three Proterra buses, known as the Zero Emission, Extended Range, Fifth Generation (ZX5). These forty-foot buses have more powerful 675 kWh battery packs, which extend the driving range of the electric buses even further.
GBT is planning for the purchase of an additional six zero-emission buses before 2024, along with expanding the charging infrastructure at our Bridgeport maintenance facility. We are committed to building a cleaner, greener bus fleet now and into the future.
---
We think we know what the prices of fossil fuels are, but their impacts on climate and human health are much larger than previously realized.

―Drew T. Shindell, professor of climate sciences at Duke's Nicholas School of the Environment.
---
Equity Matters
The Social Costs of Carbon
It's estimated that for every gallon of diesel fuel sold there is an additional cost of $4.80 in health costs to human beings. In addition, communities of color and areas of poverty are disproportionately affected by the impacts of carbon.
Here on the ground, in the Greater Bridgeport Region, there are many Areas of Persistent Poverty which are places in which there is long term, often multi-generational, poverty. GBT is committed to making changes that have positive impacts in these communities and in the region as a whole.
The transportation sector is responsible for nearly 25% of carbon emissions in the United States. By deploying buses with zero tailpipe emissions, we are helping mitigate the impacts of climate change while reducing local air pollution. Public transit can and is deploying innovative solutions right now that help make our region healthier and more resilient.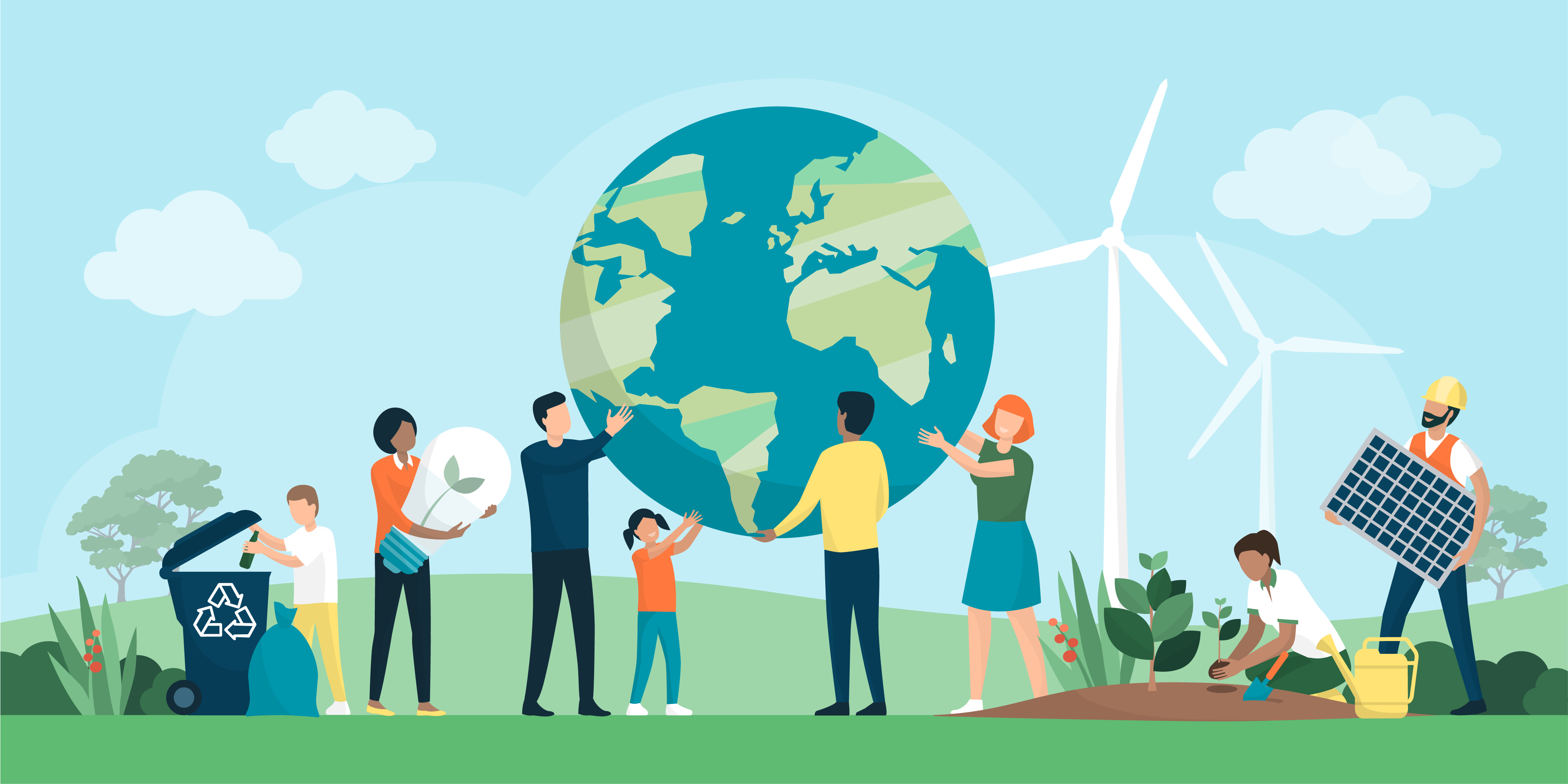 Resources
Electric Buses, the Environment, and Equity
---
September 14, 2021 | Green Biz
"For decades, public transit agencies have been quietly working to grow the nation's fleet of electric buses, a growing trend that could change U.S. cities as we have known them for the past 100 years."
---
April 18, 2019 | Greenlining Institute
"Poor communities suffer disproportionately from exposure to traffic-related pollution… leads to higher rates of pollution-related diseases such as cancer and heart attacks. Race matters, too: even for people in the same socioeconomic class, people of color are more likely than whites to be exposed to pollution from cars, trucks and buses."
---
June 25, 2020 | Earth Justice
"…each gallon of gasoline purchased at the gas station carries with it up to $3.80 in health and environmental costs. The diesel in big rigs and farm equipment is worse, with an additional $4.80 in social costs to our health and climate per gallon."
---
October 2019 | Environment America
Electric Buses In America: Lessons from Cities Pioneering Clean Transportation
"They [electric buses] produce significantly lower greenhouse gas emissions than diesel, diesel hybrid and natural gas-powered buses. Replacing all of the country's diesel-powered transit buses with electric buses could eliminate more than 2 million tons of greenhouse gas emissions each year."
---
September 8, 2021 | Interfaith Center for Sustainable Development
"All-electric buses emit less greenhouse gas over the course of their lifetime compared with petrol and diesel hybrids. The carbon footprint is reduced in the manufacturing process when making electrical buses."
---
Stay Connected
Please check in regularly. You can always get the latest information in these places: