TOPICS: Ride Clean, Stay Safe (Video) • Environmental Review • Cleaning High-Touch Areas • Deep Cleaning the Seats (Video) • Increase in Cleaning Staff • Washing the Buses (Video) • Electrostatic Bus Disinfecting (Video) • Touchless Hand Sanitizers On-Board • APTA Safety Seal
---
Ride Clean, Stay Safe
At GBT, we've been working hard to keep the buses clean. Since the start of the pandemic, we have been introducing and adopting new and improved ways to clean and sanitize our buses and stations. Every day we are learning more from the scientific community and from other industry leaders about new ways and best practices to keep everything clean. This newsletter is an update on our cleaning efforts over the last year.
---
Environmental Health and Science Review
Last Fall, GBT conducted a complete review of its newly developed cleaning program. To help us with this, we worked with Triumvirate Environmental, a highly experienced environmental, health, and safety consultant. Triumvirate's work was conducted using guidelines and best practices established by organizations such as the Centers for Disease Control (CDC), the Occupational Safety and Health Administration (OSHA), the Environmental Protection Agency (EPA) and the State of Connecticut.
The review concluded that GBT has

"Robust cleaning and sanitization practices for buses"

and an environment of "continuous improvement."
The review concluded that GBT has developed "Robust cleaning and sanitization practices for buses" and an environment of "continuous improvement" throughout the pandemic. GBT plans to continue its partnership with Triumvirate as we move through the pandemic and new cleaning and disinfecting methods are developed and assessed.
---
Enhanced Cleaning of High-Touch Areas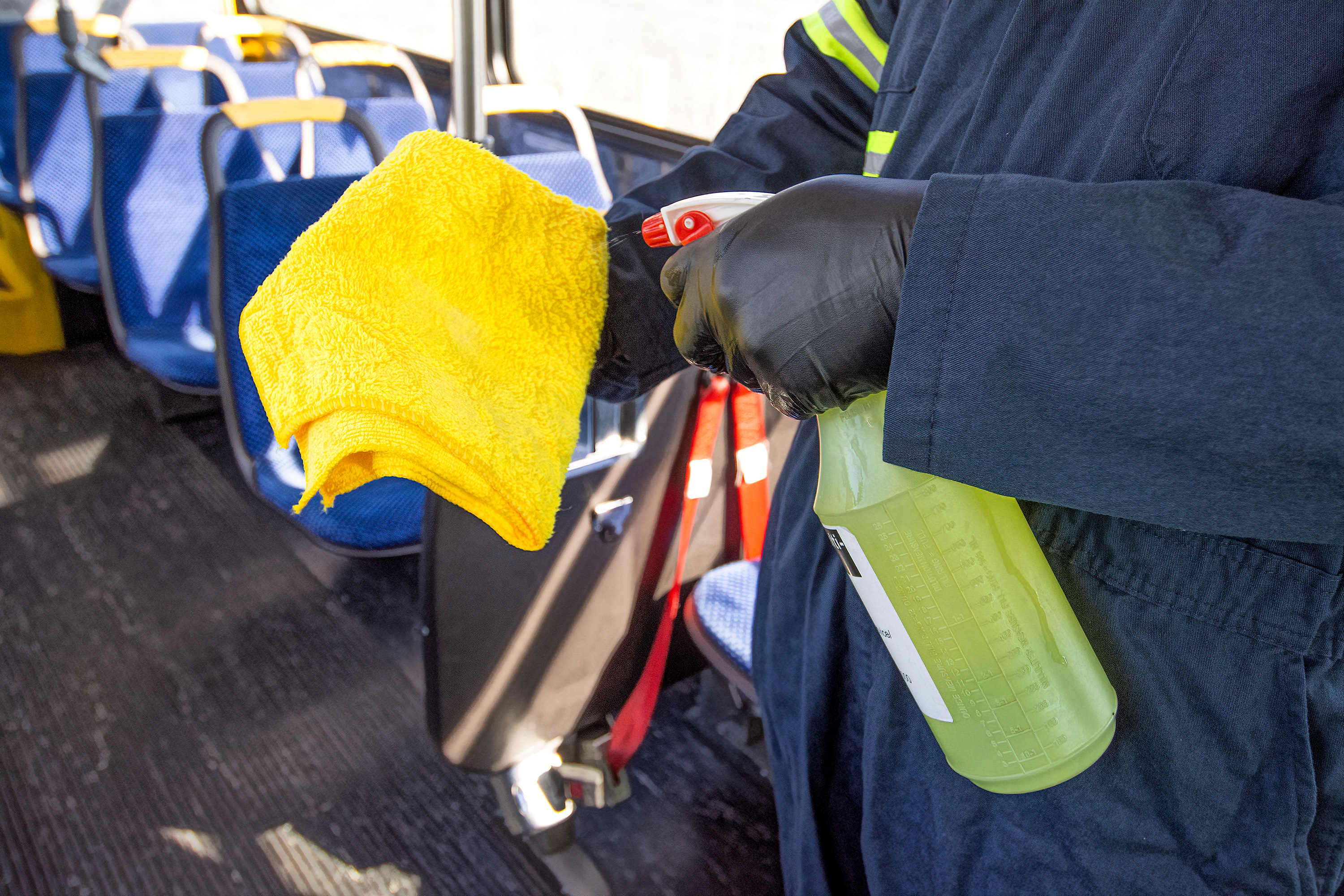 You know the locations – hanger straps, seat backs, station rails, pull cords – these are the areas that most people touch when using the bus and are a focus of our cleaning efforts. Every night, and before a bus is placed onto service, our staff cleans the buses, paying special attention to these high-touch areas with an EPA approved product which sanitizes the surface. Looking toward the future, GBT is working with a firm to incorporate hand hold and stanchion pole covers made with a preventative biocide surface, similar to those found in hospitals today.
---
Deep Cleaning the Seats
We know you care about sitting in a clean seat. The seats are deep cleaned and disinfected regularly.
---
Increase in Cleaning Staff
The future of bus service requires a new level of bus cleaning and sanitizing. That is why we have expanded our cleaning staff and have improved our program to insure that buses are cleaned thoroughly and consistently.
---
Washing the Buses
Each night the buses are washed in our maintenance facility in our mechanized bus washing bay. Each bus is inspected by experienced staff to insure the buses look their best when they leave the facility each day.
---
Electrostatic Bus Disinfecting
Near the start of the pandemic, GBT contracted with a cleaning company to conduct electrostatic disinfecting "fogging" of the bus interiors. For this we use a safe and proven hospital-grade disinfectant during the night cleaning of the buses. This is last step in our cleaning protocol at the maintenance facility, as the buses are lined up and prepared for service the next morning. This is done three time every week and we are working to increase the frequency of this part of our cleaning program.
---
Touchless Hand Sanitizers On-Board
GBT has been installing touchless hand sanitizer stations in the boarding areas of all buses for our customers. According to the CDC "Practicing hand hygiene, which includes the use of hand rub or handwashing, is a simple yet effective way to prevent the spread of pathogens and infections."
---
Ventilation
Even during cooler weather, you may see some select upper windows partially opened in the buses. This is an effort to keep fresh air circulating through the bus. According to the EPA: "An important approach to lowering the concentrations of indoor air pollutants or contaminants including any viruses that may be in the air is to increase ventilation – the amount of outdoor air coming indoors." So, please leave those windows open, but do let your driver know if you are too cold.
---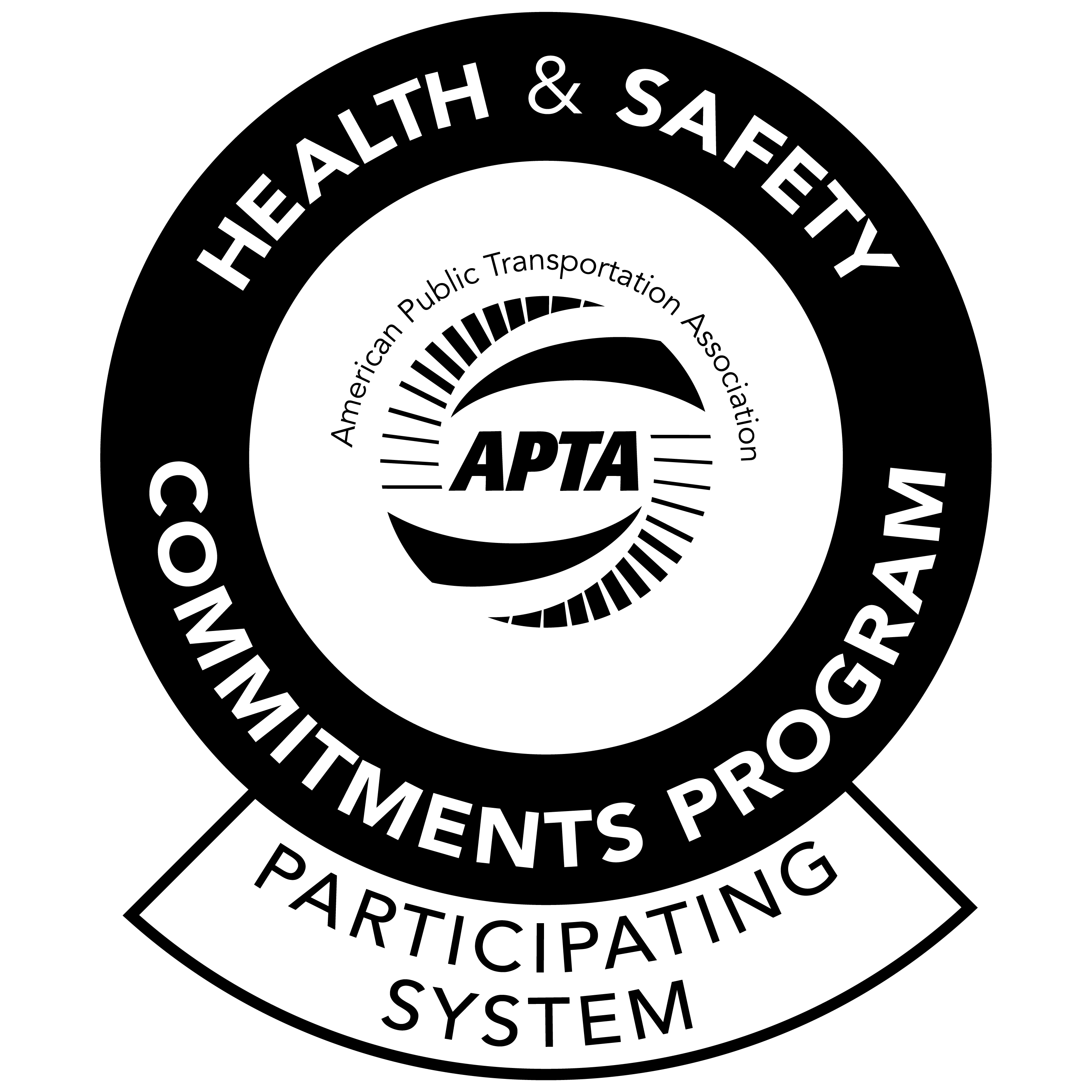 We're All in This Together
GBT has joined public transit agencies across North America in the American Public Transportation Association's Health and Safety Commitments Program. This means we are committed to:
Creating Science Based Policies and Procedures for Cleaning and Disinfecting Buses and Stations
Cleaning and Disinfecting our Buses and Stations Better and More Frequently
Sharing Information About Our Efforts with Our Customers and Communities
Keeping our Employees Healthy
---
We Are Counting on You!
We are doing our part to prevent the spread of COVID-19 and we hope that you will continue to do yours. Please remember:
Follow health and safety rules: wear a mask while using public transportation, wash your hands and use hand sanitizer.
Give the driver room and please avoid unnecessary conversations with the driver
Respect fellow riders' space – practice social distancing to the extent possible on-board, at bus stations, hubs, and bus stops
Stay home when you are sick
---
Stay Connected
Please check in regularly. You can always get the latest information in these places: