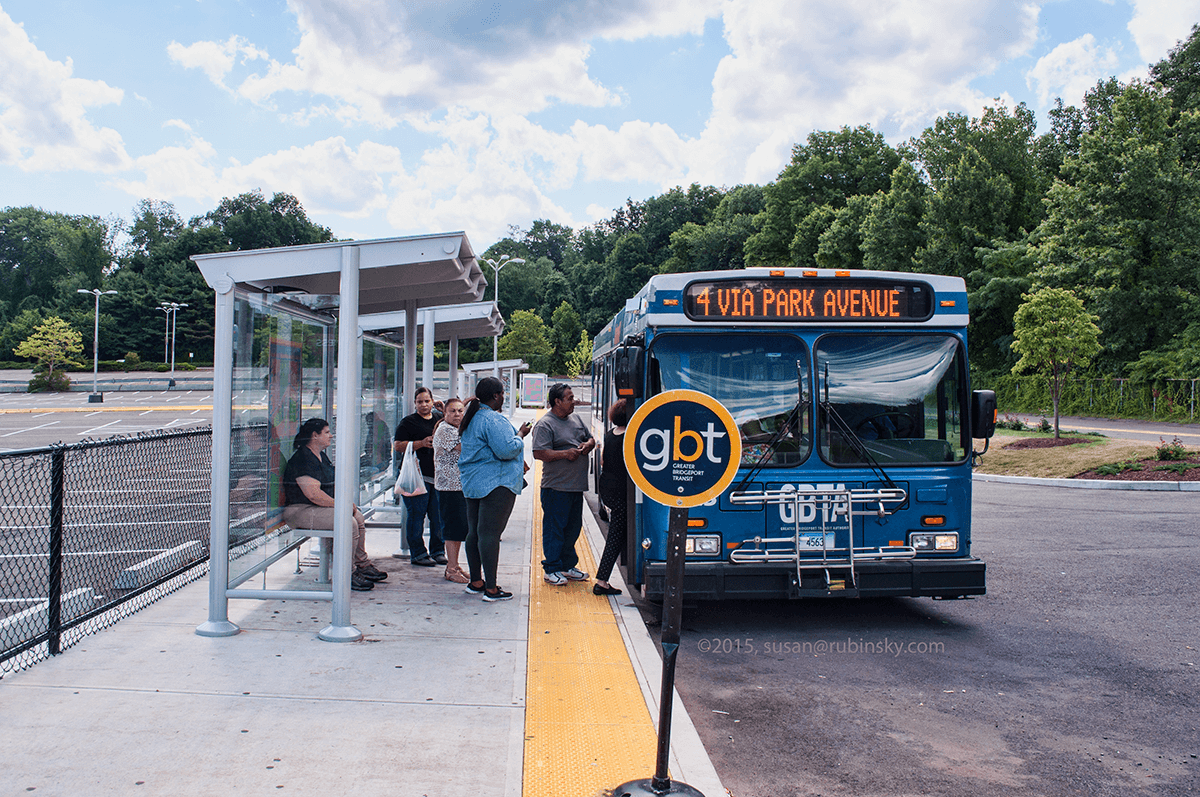 Clean, safe, accessible public transportation is an important part of the Greater Bridgeport Community and GBT is committed to investment in passenger amenities – such as benches, lighting, shelters, new technology, passenger information systems, and security. Our goal is to keep our 5M annual riders safe and comfortable as they use the bus to get to work, school, shopping, and other activities in the community.
"A good bus shelter is an essential part of any successful urban mass-transit system." —Project for Public Spaces
Working with our partners at the Federal Transit Administration (FTA), the Connecticut Department of Transportation (CDOT) and the municipalities of Bridgeport, Fairfield and Stratford, GBT has invested heavily in passenger amenities to improve safety, make travel easy and accessible, and keep buses clean and in good working order.
More Bus Shelters.
Since 2012, GBT has installed twenty-five new, ADA accessible bus shelters. Some new shelter installations replaced existing shelters, many of which were more than fifteen years old, while other installations added shelters to stops which had no shelter previously. Currently, there are 49 bus shelters in total. In 2019, GBT is working with CDOT, as well as Fairfield and Stratford, to install five more shelters and two benches at bus stops in those communities.
Trumbull Mall Hub.
In 2014, GBT completely renovated the Trumbull Mall Bus Hub, with five new bus shelters, a wider more accessible platform and improved lighting. Outside of the GBT Bus Station, the Trumbull Mall Bus Hub is one of the most heavily used locations in GBT's service area, with GBT buses stopping there 200 times a day.
Super Stops at Trumbull Gardens.
GBT is currently working with the Bridgeport Housing Authority and the Trumbull Avenue neighborhood, to design and install six "super stops", which will be located along Trumbull Avenue for riders on Route 6. These stops will incorporate improved lighting, next bus arrival boards, wind screens, integrated maps, and real-time message boards.
In 2019, GBT will be making improvements to bus stops, sidewalks, and crosswalks along East Town Road on the side of the Connecticut Post Mall in Milford to increase accessibility and safety for pedestrians along this busy corridor, serviced by the Coastal Link bus route. Bus stops and sidewalks will be made larger and more accessible and new shelters will be installed along this route. This project is the result of a public-private partnership between the Connecticut Post Mall, Milford Transit District, CT Transit-New Haven, and GBT.
Community-Led Design.
GBT's Amenities Program goes beyond an investment in things. The program is also about being "a good neighbor" by working with local communities to bring bus shelters to their bus stops and to ensure the placement and design of bus stops are appropriate for the needs of the neighborhood and individual property owners. GBT conducts community outreach on a regular basis with riders to get suggestions and feedback.
Once bus shelters are installed, GBT employs a hearty maintenance program, which includes weekly inspections and cleanings of bus shelters.
While not all GBT bus stops have bus shelters, GBT's Bus Stop Program ensures that GBT's 1,200 bus stops, located along 350 miles of routes in ten Connecticut communities do have a bus stop sign, where permitted. A bright, easy to see bus stop sign is an important part of transit accessibility.
Reach Out and Let Us Know.
As more resources become available, GBT will continue to invest in passenger amenities, at our larger facilities and at individual bus stops. We encourage riders and people in the community to contact us with requests for bus stops and bus stop amenities.