Public transportation is vital to all Connecticut residents. It:
Helps commuters get to and from jobs
Reduces highway congestion and contributes to a healthier environment
Fosters the state's economic viability and growth
Empowers people to move up the socio-economic ladder
Enables seniors to age at home
Assists people with disabilities to participate productively in the community
Is safe and efficient and plays an important role in emergency response and mitigation
Public transportation is a critical investment in the prosperity of our state. When considering transportation issues during this legislative session, we hope that you'll support investment in bus service.
---
"The return on investment in transportation… is not just measured in how many people physically use it. It's also measured in improvements to the economy, decreases in people's commuting time, creation of new jobs and reduction in greenhouse gases."

—Stephanie Pollack, Secretary of Transportation, MassDOT
---
Commuters & Congestion
In the Bridgeport region alone, riders boarded buses 5,187,306 times in 2018. That's about 17,000 trips every day to gainful employment, high school and college, and health and social services. By connecting with Metro North train stations and with regional bus services, GBT enables commuters to get to work while reducing congestion here in Fairfield County. GBT operates the Coastal Link regional route, in partnership with both Milford and Norwalk Transit Districts, which runs along the I-95 corridor and, during peak hours, is so heavily used that buses are often filled to capacity.
---
Students & Opportunity
There are more than 7,000 students each year who use GBT to get to high school or college, and internships and jobs. We even partnered with the University of Bridgeport and the Discovery Museum to create a STEM bus that travels around to public schools for hands-on learning.
We connect with Housatonic Community College, The University of Bridgeport, and Sacred Heart University as well as major employment centers such as Bridgeport Hospital, St Vincent's Medical Center, People's Bank, Sikorsky Aircraft, Shelton Corporate Park and many others.
---
Seniors & People with Disabilities
On a typical day, GBT provides between 300-400 door-to-door trips to senior and riders with disabilities, enabling people to age at home and live independent lives in their communities. In partnership with local social service agencies, we've provided many community services such as Saturday grocery shopping shuttles for seniors and training programs to help disabled people learn how to use bus service.
---
Emergency Response
Bus transit plays an important role in the state's transportation network and in emergency response — we've provided backup transportation and emergency evacuation services during extreme weather events and during other emergencies.
---
Safety
Public bus service is also one of the safest ways to travel in the U.S. In fact, GBT won a national award in 2017 for its innovative safety program which reduced accidents while decreasing collision and worker's compensation claims.
---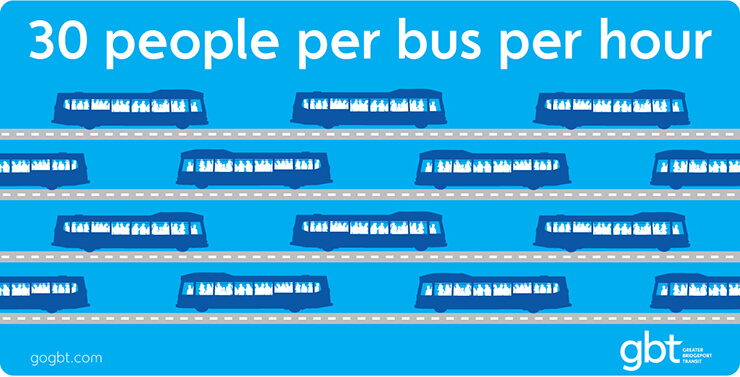 ---
Efficient & Productive
Containing costs and ensuring that state investment in bus services benefits as many members of the community as possible are important goals. With declining state investment in bus transit, we have honed our services to be as lean as possible. Through continuous review and refinement, GBT has been able to increase efficiency and productivity. Today our cost per hour of service is less than it was in 2013 and we're moving an average 30 people per bus per hour and, during peak hours, our buses are often filled to capacity.
---
Wise Investment
Through this legislative session, GBT asks that you:
Preserve existing investment for Bus Transit Operations, ADA Operations and the Municipal Grant Program for seniors;
Grow investment in bus services so we can improve frequency and service spans, and reach new areas not served by bus today;
Ensure that bus operating investment is considerate of all areas of the state.


---
Constituent Services
We want to know. We listen carefully to what our riders are saying and investigate every complaint. By interacting and engaging with our customers, we are able to improve and innovate. What we've found is that many complaints illuminate the need for more service: more frequent service, later or earlier service hours, more weekend service. We are continuously working toward cleaner, more reliable, and more convenient service for our riders.
When you hear from constituents, we want to hear from you.
You can contact me at 203-366-7070 X124 or dholcomb@gbt-staging.b97xcqx6-liquidwebsites.com.
Doug Holcomb
CEO/General Manager
Greater Bridgeport Transit
---
More Info & Data
The American Public Transportation Association | 2018 Fact Book
The National Transit Database (NTD) | Federal Transit Administration